75 years of utterly-butterly deliciousness

8

min read
Reading Time:
5
minutes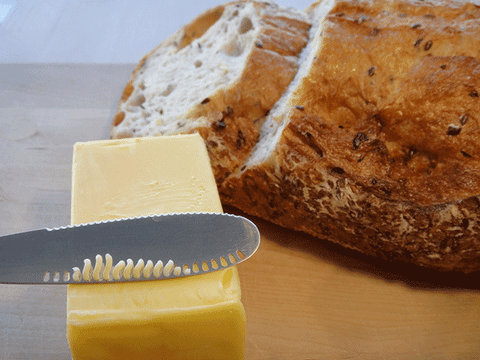 The smiling little girl, the silky spreadable butter, the salty soft cheese, the melty smooth chocolate — ah, Amul. The dairy brand that has been around for decades and is a staple in every Indian home, celebrates 75 years this year. So, we at Owliver's Post decided to pay homage to the brand that has managed to stay relevant through the years. Here's a look into the history of this homegrown brand.
How it started
Amul has a very interesting and inspiring history. It was started in 1946 in response to the exploitation of local milk producers by Polson Dairy in Anand, Gujarat, which was the region's only dairy company back then.
Polson Dairy was procuring milk from farmers at very low rates to sell to the Bombay (now Mumbai) government at high rates. While Polson prospered and the middlemen made money, it was the poor dairy farmers who suffered.
This exploitation continued until Tribhuvandas Kishibhai Patel started a revolution to help poor dairy farmers and landless labourers. He approached Sardar Vallabhbhai Patel (the first Deputy Prime Minister of India) and Morarji Desai (fourth Prime Minister of India), who was then Bombay's home and revenue minister, to seek their permission to form a cooperative with their own pasteurisation plant. After getting support from the two politicians, the cooperative – Kaira District Co‑operative Milk Producers' Union – was formed.
Owliver's Obscure Observations
The local dairy farmers decided to go on a 'milk strike' and suspended milk supply to the Bombay government. The city went without even a drop of milk from Gujarat for 15 days!
Any farmer was free to join the Kaira Union irrespective of his or her caste, religion or financial status. Tribhuvandas Patel demanded that the Bombay government procure milk from this cooperative.
The 'Milkman of India'
The late Dr Verghese Kurien, rightly called the 'Milkman of India', was Amul's true architect. His journey at Amul began in 1949 when he arrived in Anand to manage a dairy as a government employee. He went from helping farmers repair machinery to revolutionising India's dairy industry with the 'White Revolution' (or 'Operation Flood') — the largest dairy development programme in the world.
The new dairy with the milk processing plant was ready for operations in October 1955. This year also saw an important event in the industry — buffalo milk was processed to make products for the first time, anywhere in the world.
Owliver's Obscure Observations
The word 'Amul', derived from 'Amulya', which means 'precious' or 'priceless' in Sanskrit, was used to market the range of milk products developed by the Kaira Union. It is also an acronym for Anand Milk Union Ltd.
Dr Kurien had a vision like no other back then. He wanted to offer small-scale dairy farmers quality-control units and centralised marketing, which were missing at the time in the dairy economy. Thus, the Gujarat Cooperative Milk Marketing Federation (GCMMF) was created in 1973 to market milk and all milk products produced by six district cooperative unions in Gujarat. GCMMF is the largest exporter of dairy products in India and Amul is the umbrella for all of its products.
Dr Kurien was immortalised with an entire comic dedicated to his efforts. Amar Chithra Katha — the popular children's books publisher, launched Verghese Kurien-the Man with the 'Billion Litre' Idea in 2018. You can get a copy here.
Amul today
Every day, Amul collects around 3.3 million litres of milk from nearly 2.12 million farmers in villages all across India. The farmers get paid instantaneously within a matter of a few seconds thanks to the technology that has helped the industry grow.
As of today, Amul has a total of 31 plants in India. Gujarat has 13 Amul plants, 4 are located in Delhi/NCR region, 2 are in UP, 4 in Maharashtra, Rajasthan has 3 plants and Madhya Pradesh, Assam, Chattisgarh, Jammu and Kashmir and Jharkhand have one Amul plant each.
In 2018, Prime Minister Narendra Modi inaugurated a new Amul chocolate plant in Gujarat.
Who owns Amul?
Interestingly, there is no single owner of Amul. Amul is a cooperative society and is jointly owned by 3.6 million milk producers in Gujarat.
The taste of India
Amul's famous slogan – the 'Taste of India' — which is now a part of its logo, was created in 1994 by Kanon Krishna of a Mumbai-based advertising agency called Advertising and Sales Promotion.
According to Amul, the 'Taste of India' slogan is more than just advertising jargon. This slogan stands for taking quality food and products to the common man.
The Butter Girl
We've all seen the smiling girl in a polka-dotted dress who is the mascot of Amul. The Butter Girl was born in 1966 when Sylvester daCunha, the then MD of the advertising agency handling Amul butter's account, created her for its campaign. The first few ads were so popular and well-received that Dr Kurien gave daCunha complete creative freedom to create and release the ads without taking the company's permission. Since then, the Butter Girl has always been quick to address any issue dealing with India and even abroad.
From politics to sports to popular culture to festivals — the Butter Girl celebrates it all with us. In an age where expensive flashy ads with celebrities are a norm, Amul's ads stand out for their simplicity, freshness and ability to bring up current events in the most creative way.
Have a look at some of her avatars over the years…
Owliver Recommends
The first crowdfunded film to be made in India – Manthan – is based on Dr Kurien has the White Revolution. The 1976 film was directed by Shyam Benegal, and was India's entry for the Academy Award for Best Foreign Language Film for 1976. Owliver recommends you watch this film, which also shows the power of collective might.
The best part? A total of 500,000 farmers contributed Rs 2 each to make this film!
---
Sources: Amul Dairy, The Better India, Hindu Business Line, Wikipedia