A 3,200 year old knife wielding Peruvian spider-god was almost not found

4

min read
Reading Time:
3
minutes
A few farmers in Northern Peru's La Libertad region were busy expanding their avocado and sugarcane farms when they almost destroyed a significant piece of history. They were cutting up rocks and clearing the land near the river when someone saw a beautiful geometric artwork. It looked like an ancient shrine with an etched out drawing of a spider wielding a knife! Immediately, the archaeologists arrived, and the almost untold mystery was unravelled.
The Cupisnique culture
Turns out that this fascinating god belonged to the Cupisnique culture, a culture that existed before Spain invaded South America. The Cupisnique culture for its beautiful pottery, art and ancient temples and Gods. This zoomorphic or animal-like god has been seen before. The knife-wielding spider god was last spotted on a piece of pottery and is said to be associated with fertile lands and rain.
Tomabalito
The mural has brought to light a much larger wonder. A 3000-year-old temple whose strategic position near the river probably indicated that the temple was dedicated to the gods or deities of water. It is no wonder that a spider adorned this mud-brick temple as spiders were crucial to many cultures that existed before the modern Hispanic culture took over.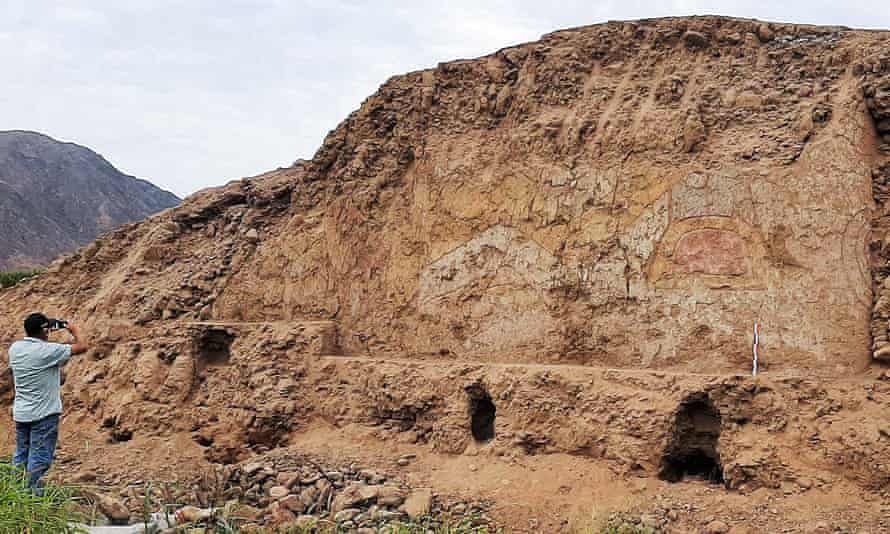 The mural itself would have been a colourful one. You can still see some yellow, grey and white paint that has stuck around for 3200 years. The mural probably featured in a sacred water ceremony that most likely occurred between January and March. It is a similar concept to the painted Kolams with which modern Hindus decorate their homes and temples during Diwali celebrations.
Unfortunately, about 60% of the temple complex was destroyed by the farmers before it was discovered by Archeologists. However, the 40% that remains still makes for an immensely exciting discovery. One particular archaeologist, Régulo Franco Jordán, has named the temple Tomabalito. He has named it after the nearby archaeological site known as El Castillo de Tomabal.
What next?
The site has been registered with the government but left alone for now. Archaeologists plan to return to study it after the Covid pandemic has ended. They will try to use it to unlock the secrets of the Cupsnique culture and perhaps the knife-wielding spider god?
This is not the first animal artwork that appeared in Peru over recent months. A funny ancient cat made an appearance just as we felt the heat of the pandemic.
With Excerpts From: The Guardian, Artnet News, Smithsonian Magazine, Wion News and Khan Academy.