An adventure of a boy, his insect friends and a giant peach!

4

min read
Reading Time:
3
minutes
Isn't it the best feeling when a book to help you deep-dive into your imagination and take you on the most adventures? In these difficult times, nothing can be more wonderous than going on a fantasy adventure for a few hours to a new world. Hence, this week, Owliver is going to take you on one of his favourite adventures, with a boy named James, a few talking bugs and a giant peach! Yes, you read that right, a giant peach!
Written by Roald Dahl, the book was published in 1961! Let's look at what it's all about…
The plot
It begins with the orphan James being sent off to live with his two aunts after his parents' death. These aunts are far from kind – they are selfish, lazy, and nasty to James, and treat him poorly.
One day, when they force James to work in the garden, he meets a mysterious old man, who gives him a bag of green, magic crystals that he promised would make him happy.
Thrilled at the amazing opportunity, James runs towards the house to use them right away. But along the way, he trips under an old, dead peach tree, dropping the magic crystals. Before, he could pick them up, they all sink into the ground.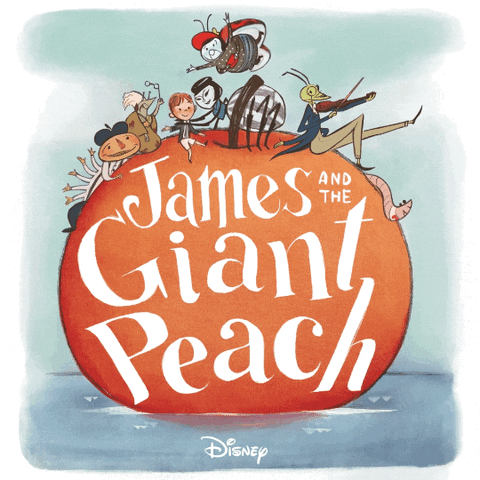 A disheartened James gets back to work when him and his aunts notice a peach magically growing from the old, dead tree. The peach grows and grows and grows some more till its massive! The locals soon hear about this gigantic peach and come over to see the sight. James' aunts, wily as they are, start enjoying the limelight and turn the giant peach into a business by charging to see it.
One night, when James sneaks into the garden, he notices a small hole in the peach, and out of curiosity, climbs into it. Inside, he meets the most unusual characters – giant insects that can talk like you and me. A grasshopper, a ladybug, a spider, a centipede, a silkworm, and an earthworm quickly become James' friends. The next morning, with James still inside, the giant peach breaks off from the tree and starts rolling down the hill. It rolls all the way to the ocean, and thus starts an adventure of a lifetime, where the unusual friends travel to strange lands and meet even stranger creatures.
All in all, this book is a sheer delight to read, especially if you love wacky characters, magic and silly rhymes throughout.
Trust us, this is a ride you don't to miss!
Rating: PG
Author: Roald Dahl
Pages: 144 pages Michael Rianda and Jeff Rowe
Genre: Adventure, comedy, heartwarming
Owliver's score: 4/5

Watch the trailer to the 1996 Disney movie here: