Find out if your state is going cracker-free this Diwali

4

min read
Reading Time:
3
minutes
It's almost that time of the year when we face the proverbial dilemma; should we or should we not burst crackers. This Diwali, the debate is even more complicated, given that we are still in the middle of a pandemic!
Apart from adding to air and noise pollution, we must keep in mind that Covid-19 is a respiratory illness, and cracker smoke can only make us more sick.
Now, the National Green Tribunal – a body established in 2010 to handle cases related to environmental issues – has intervened, and has sent notices to 23 states and union territories asking for a status update on pollution levels and whether they plan on banning the sale of crackers.
What? A ban on crackers during Diwali?
Yes, in some places.
For example, there is a complete ban on the sale and bursting of crackers in the National Capital Region (The NCR comprises districts across the states of Uttar Pradesh, Haryana, Rajasthan, and the National Capital Territory of Delhi) till November 30.
State governments have also decided to take matters into their own hands and enlisted complete or partial bans on crackers depending on different situations. Can you spot your state in the list below?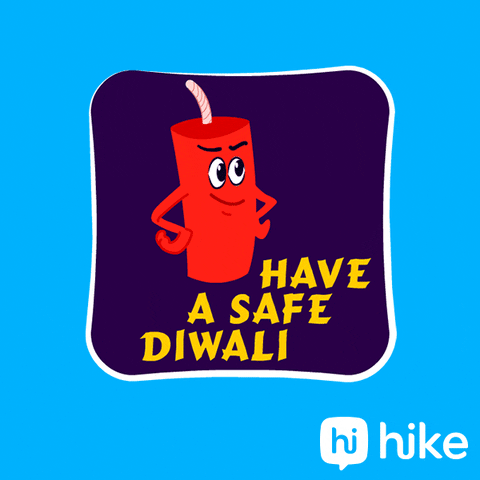 Delhi:

The Delhi government has banned crackers from November 7 to November 30. Very poor air quality and rising Covid-19 cases led to this decision. Anyone breaking rules can be fined up to Rs 1 lakh!
Rajasthan: One of the first states to say no firecrackers this Diwali, the Rajasthan government implemented the ban on November 2 itself.

Uttar Pradesh:

Though the state received a notice from the NGT, it is allowing only 'green crackers' to be sold and used.
Haryana: Despite poor air quality, the state is allowing bursting of crackers between 8pm -10pm on festival days.

Karnataka:

In Karnataka too, only green crackers will be allowed, and citizens can buy them only between November 7 and November 16. Any rule breaking can land you in jail!

Tamil Nadu:

This state is a hub for the manufacture of crackers in the country. Strict rules have been put in place for the bursting of crackers – 6am-7am and 7pm-8pm on Diwali day.
Maharashtra: The Maharashtra government has advised citizens to avoid bursting crackers, with a next-to-complete ban in Mumbai.

Odisha:

Bursting of crackers has been completely banned from November 10 to November 30.

West Bengal:

After intervention from the Kolkata High Court, West Bengal will see a cracker-free Diwali.

Chandigarh:

A complete ban on sale and use of crackers has been implemented here, with strict action against anyone breaking rules.
Sikkim: Sikkim called for a complete ban on firecrackers November 8.

Nagaland:

In Nagaland too, firecrackers have been banned completely till further notice.

Jammu and Kashmir:

Jammu has banned firecrackers completely for two months, starting November.
Playing it cool
There are some other states that have, of course, not enforced a rule but recommended that people burst less crackers. Here's that list:
Kerala, Andhra Pradesh, Telangana, Jharkhand, Gujarat, Chattisgarh, Punjab, Bihar, Uttarakhand, Himachal Pradesh, Ladakh, Assam, Arunachal Pradesh, Manipur, Mizoram, Tripura, Meghalaya.
Bursting 'green crackers' is also encouraged
The NGT has advised states with moderate air quality to burst only 'green crackers', but what exactly does that mean? No, the 'green' in this case has nothing to do with the colour. Developed by the National Environmental and Engineering Research Institute, these are designed to pollute less than regular crackers. In green crackers, there are fewer harmful chemicals such as potassium nitrate, carbon, aluminium, etc.
Photo: Deccan Chronicle
Think with Owliver:

 Now that we know that cracker smoke and Covid-19 are a bad combination, do you think it's a good idea to lift the ban on firecrackers from next year?  Comment and let us know what you think!
Sources: Citizen Matters, Times of India, Firstpost.com