How did US sports survive the new normal?

2

min read
Reading Time:
2
minutes
We all know the new normal; face masks, tons of handwashing, social distancing, and avoiding crowds. But sports like Basketball are close contact sports, so how did the NBA escape Covid-19 unscathed? Let's take a look.
The NBA decided to make something we call a bubble. There is only one site, and all players play there. Every player is tested, everyday, and try to limit contact. This includes all support staff and other people serving and helping the players.
But basketball players don't live in the stadium, do they?
No, they don't. But the NBA has reserved hotels where players can stay. They order food and drinks through room service, who leave it at their door. They open their door and pick it up after that. They even have a hair stylist on demand!
But what if someone has a family emergency, has to leave, or breaks the rules?
Well, they have to go through 14 days of quarantine once they return, and only if they test negative multiple times at the end of these two weeks are they allowed to return to play. Masks are required whenever you go out except when they play.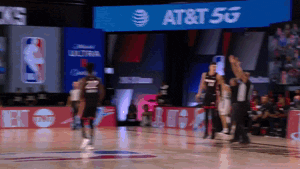 Imagine the great lengths these the NBA has gone through to provide us entertainment and we really appreciate it!
We'll all remember 2020, the year of coronavirus, and how the NBA avoided even a single positive case.
Check out how they make the food!
Guest Author: Rishi Jain
Rishi is a 7th grader and basketball fan. He has a sports YouTube channel with 50 subscribers and aspires to make it 1M someday. He likes watching space launches and reading about building rockets.