How to become the hero that prevents the next pandemic

6

min read
Reading Time:
4
minutes
Would you consider yourself curious? Do you see problems in the world and wish you could fix them? If yes, then you're in luck! Why? Only because author Kate Messner is soon going to release a picture book for young people on the pandemic's hero, Dr Anthony Fauci. If anyone can match Covid-19s notoriety with an equal amount of intelligence and resolve, it's Dr Fauci.
So, who is this medical marvel?
Dr Anthony S. Fauci is really quite the legend. He is commonly known as 'America's doctor' and is an immunologist who is an expert on infectious and unusual diseases. Yup, you guessed it, he is the world's go-to guy on this bizarre, stubborn and fast-spreading coronavirus pandemic. Dr Fauci's expertise has also made him the head of President Biden's Coronavirus task force. That means that he is in charge of making any decision regarding the American government's response to this deadly virus. He uses logic and scientific thought to make choices that will eventually save the most lives and cause the least possible pain.
As swarms of fake news have bombarded our phones and ears, Dr Fauci is a trusted voice that people have relied on throughout the year. He has headed the National institute of allergy and infectious diseases in the United States for about 50 years! So for him, the coronavirus is just another among many virus-based diseases. So far, Fauci has fought tooth and nail to prevent a slew of deadly, fast-spreading viruses such as HIV, the Zika Virus, Bird Flu, Swine Flu, Ebola, and even an older version of the novel coronavirus. This living legend has been recognised as an American hero since around 1980, but only now is he a common household name.
Owliver's Obscure Observation: Dr. Fauci has been often recognised for the significance of his work. Over the years he has worked under 7 American President's who have all had to take his guidance. He has been awarded the United State's highest honour: The Presidential Medal of Freedom and recently won a million dollars for his gargantuous contribution to the fight against Covid 19. Click on this image to read all about it.
What's in the book?
Well, after reading all this, you can probably imagine why people are swarming to write about this dumbfoundingly, massively, ginormously talented hero. And soon you'll be able to read all about him.
'Fauci: How a Boy from Brooklyn Became America's Doctor' is essentially your guidebook to becoming awesome.
It features a slew of inspiring illustrated stories about the curious Anthony Fauci's youth and how asking being the boy with a million questions got him to where he is today. Of course, that is in combination with the drive and discipline that still guides him through life.
The book follows his life as a little boy working in a chemist shop, followed by his crushed dream of becoming a basketball player. Eventually, the story finds Anthony Fauci's true love with him: His love for medicine. Fauci went on to go to one of the best University's in the world and topped his class in the medical sciences.
A guide to becoming the next Anthony Fauci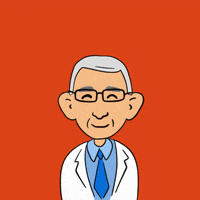 The book also features a low-down on everything vaccines with knowledge drawn from the expert himself. This vaccine showdown is on a pictorial spreadsheet at the end of the book. Lastly, if the book inspires you to spend your life heroically eyeballing bacteria and viruses underneath a microscope, you'd better check out its section on further reading. Oh! And lastly, don't forget to carefully read all the sacred tips from the legend, Dr Fauci, himself.
You will be able to buy this book on Amazon on the 29th of June. Too eager to wait until then? You can pre-order the book on Amazon now.
Lastly, always remember: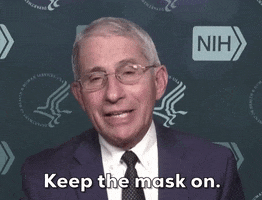 With excerpts From: The Guardian, The New York Times, and the New York Post.