2020 was India's third warmest winter in 120 years!

3

min read
Reading Time:
3
minutes
Did you notice how winter just flew by and summer descended upon us almost suddenly? Light t-shirts have replaced sweaters, and soups have been set aside for ice-cream and watermelon juice! While it may seem like normal patterns of weather change and seasons, the Indian Meteorological Department (IMD) announced recently that the country recorded its third warmest winter since 1901!
In India, January and February are considered winter months. The minimum temperature recorded in the past two months was 15.39 degree Celsius, while the normal temperature is 14.59 degree Celsius. While the difference – 0.79 degree Celsius – does not seem like much, when it comes to weather, every little drop or rise really counts! Maximum temperatures also rose this year, with January and February seeing an average of 27.47 degree Celsius – 0.47 degrees above normal.
Owliver's Obscure Facts
The winter of 2016 holds the record for the warmest ever winter in India, wherein there was a 0.94 degree Celsius hike in normal minimum temperature. The winter of 2009 was also much warmer than normal.
Why was it hotter this time around?
The easterly winds, which are basically winds that blow from the east, remained dominant through the winter season. This, officials from the department say, persistently kept the minimum temperatures above normal. Added to this, most western disturbances crossed over along the extreme northern regions like Jammu and Kashmir, failing to bring cold weather over the northern plains. Cold winds that developed later were obstructed by the easterly winds, which led to warmer temperatures across the country, say experts. This winter season also saw more foggy conditions rather than actual coldwaves.
Rainfall in January, which was more than normal in North India, Tamil Nadu, Kerala and Puducherry, also gave way to warmer temperatures. Officials said the rainfall this winter season was 264 % more than the average rainfall recorded during this time.
Owliver's Obscure Facts
For those who hate the cold, this winter would've come as a boon, however, high temperaturs during the winter aren't a good thing. This can lead to widespread crop damage and also increase health issues, advice experts.
Brace for a warmer summer
This summer is going to get really warm, warn IMD experts. March to May day temperatures are likely to be above normal in north, northeast, parts of east and west India, the IMD said in its summer forecast.
Think with Owliver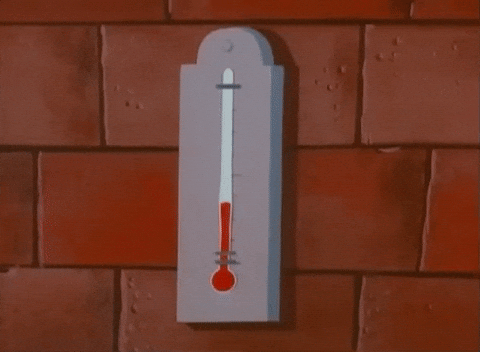 Celsius (°C) and Fahrenheit (°F) are temperature scales. The Fahrenheit scale is used primarily in the United States, while Celsius is used throughout the world. Here's an easy trick for you! The formula to convert Celsius into Fahrenheit is quite easy – °C multiplied into 1.8 + 32 = °F. Now, can you convert 20 degrees Celsius into Fahrenheit? Try and let us know in the comments!
Source: India Today, Indian Express
Images: Giphy, PTI