Island nation Haiti is devastated by another big earthquake

7

min read
Reading Time:
5
minutes
This is the beautiful island country of Haiti.
---
This is Haiti now, after being devastated by a massive earthquake.
Haiti is in trouble. A state of emergency has been declared in the Caribbean island country after a magnitude 7.2 earthquake struck it on August 14. More than 1,200 people have died till date, and this number is likely to go up as rescue operations continue. Some 5,000 people are said to be injured and in hospitals.
Owliver's Obscure Observations
Ever wondered how we decide upon a number that describes how strong or weak an earthquake is? A seismograph is the primary earthquake measuring instrument. The seismograph produces a digital graphic recording of the ground motion caused by the seismic waves. The digital recording is called a seismogram. A network of worldwide seismographs detects and measures the strength and duration of the earthquake's waves.
(The National Geographic video below will give you a visual understanding of earthquakes are formed.)
Prime Minister Ariel Henry said he was rushing aid to areas where towns were destroyed and hospitals full with incoming patients.
The epicentre of the quake was about 125 kilometres west of the capital of Port-au-Prince, the US Geological Survey said. Henry declared a one-month state of emergency for the whole country. He said some towns were almost completely razed.
He said the International Red Cross and hospitals in unaffected areas were helping to care for the injured, and appealed to Haitians for unity during this difficult time.
Hospitals overwhelmed
Haiti's hospitals are swamped by thousands of injured residents after the devastating earthquake hit.
Haiti's Civil Protection Agency said the toll from the disaster had climbed to 1,297 and the hospitals that were still functioning were struggling to cope as some 5,700 people were injured.
According to reports, in some areas, doctors are being forced to treat the injured underneath trees or by the side of roads as hospitals have run out of space.
No stranger to quakes
Earthquakes have been wreaking havoc in Haiti since at least the 18th century, when the city of Port-au-Prince was destroyed twice in 19 years. The 21st century has been no less kind.
Eleven years earlier too, in 2010, a deadly quake killed tens of thousands of people.
The Earth's crust is made up of tectonic plates that move, and Haiti, sits near the intersection, or fault line, of two of them — the North American plate and the Caribbean plate. There are two major faults along Hispaniola, the island shared by Haiti and the Dominican Republic.
The southern one is known as the Enriquillo-Plantain Garden fault system.
It's this fault that the US Geological Survey says caused the August 14 quake. The USGS believes the Enriquillo-Plantain Garden fault zone can be blamed on other major earthquakes from 1751 to 1860. The agency said none of these quakes have been officially confirmed in the field as associated with this fault, however.
Celebrities show support
Celebrities have been showing their support for the island nation, and the latest to join them is tennis superstar Naomi Osaka. She has pledged to donate her earnings from the Western & Southern Open to support earthquake relief efforts in Haiti, the place her father hails from.
"Really hurts to see all the devastation that's going on in Haiti, and I feel like we really can't catch a break," Osaka said on Twitter.
Why are earthquakes in Haiti so devastating?
Well, the answer to this is not straightforward. It's a combination of factors that include a seismically active area, a high population density of 11 million people and buildings that are often designed to withstand hurricanes — not earthquakes.
Typical concrete and cinder block buildings can survive strong winds but are vulnerable to damage or collapse when the ground shakes. Poor building practices can also play a role.
More earthquakes may be ahead
In 2012, researchers wrote that the 2010 earthquake "may mark the beginning of a new cycle of large earthquakes on the Enriquillo fault system."
"The entire Enriquillo fault system appears to be seismically active; Haiti and the Dominican Republic should prepare for future devastating earthquakes," researchers had said back then.
It's still too early to determine the long-term impacts of Saturday's earthquake, but what is certain is that the people of Haiti need to brace for future such events.
The country still has not fully recovered from the 2010 earthquake and Hurricane Matthew in 2016.
Storm ahead
It's bad news again for Haiti. A tropical storm system is now threatening to unleash flash flooding and mudslides. Tropical Depression Grace has hit the southern coast of Hispaniola bringing with it strong winds. According to the US National Hurricane Center projections, Grace will pass right through areas directly hit by the earthquake, and could douse them with heavy rain.
This will make rescue efforts even more difficult, and could cut off areas from receiving much needed aid like medicines, food and drinking water.
Search and rescue teams have been arriving from the United States and Chile, with more on the way from Mexico. Cuban medical teams are already in Haiti and helping people.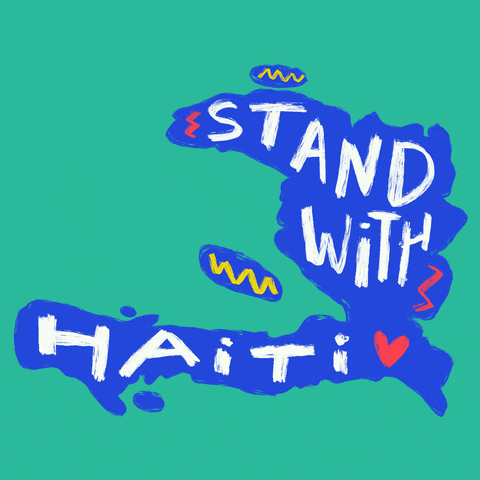 ---
Sources: Al Jazeera, BBC, NPR, Indian Express, DW, Down to Earth
Banner image: Reuters