Unhappy with France's stricter vaccine rules, lakhs of people protest on the streets

6

min read
Reading Time:
4
minutes
It's been four weeks of intense protests across the country of France. A section of the population is upset with French President Emmanuel Macron's latest measures to push people to get vaccinated. His new method to control the spread of the virus has made lakhs of people angry, as they say the government is interfering with their individual rights.
Protest marches were carried out across the capital Paris, the eastern city of Strasbourg, Lille in the north, and Montpellier in the south, among other places, as per an Associated Press report.
Things even got a bit scary too with protesters clashing with the police, people vandalising a vaccination centre, and several government officials getting threats that hamper their safety.
What are these new measures?
The French government decided to make vaccination compulsory for health workers and announced that people who are fully vaccinated, have recently tested negative or have recovered from Covid will be required to display a 'health pass' to be able to go to restaurants and other public amenities. The French call it a Pass Sanitaire.
The government brought into law recently the need to have this Pass Sanitaire. The bill includes a mandatory 10-day quarantine for anyone who tests positive, as well as random police checks. Business owners and customers who flout the rules would attract hefty fines or even jail.
Covid passes will be introduced in stages for entering all restaurants, bars, hospitals, shopping malls, trains, planes and other venues. Health workers need to get vaccinated by September 15. Although exact rules for tourists remain uncertain, the French government has said it will allow entry to fully vaccinated visitors from any part of the world, including India after its Covishield vaccine was approved.
Owliver's obscure Observations
The Eiffel Tower reopened to visitors in July after nine months of shutdown caused by the pandemic. This was the landmark's longest closure since World War II! Now, people are allowed to enter after showing proof of vaccination or a negative Covid test.
Why this rule?
The move came after a surge in infections linked to the Delta variant of the coronavirus. Doctors then started to issue warnings that if vaccination is slowed down, the country could once again be in trouble. In the past 18 months, France has lost over a lakh people to the virus, and also suffered damage to its economy.
Marine Le Pen, Macron's main competition in next year's presidential elections, has called compulsory vaccination for health workers an "indecent brutality."
Why are the people of France opposing the rules?
Those opposing the health pass accuse Macron of trampling on their freedom and forcing them to take the vaccine. They also accuse the president of making it compulsory, despite a promise only six months ago that taking the shot would not be. The people argue that France is a country where individual freedom is given great importance, and thus, they should be able to decide for themselves if they want to take the vaccine or not. Although many of the protesters are among those refusing to be vaccinated entirely, some have taken the vaccine, but object to the concept of the health pass.
Interestingly, France, which in the past had high rates of vaccine-approval, witnessed a sharp reversal in confidence because of scams related to the pharmaceutical industry.
The government, however, insists that vaccines are the only way to bring the nation back to normalcy, and believes that these measures will push forward its vaccination drive, which has currently stalled at around 53%, as per The Washington Post.
What does Macron say?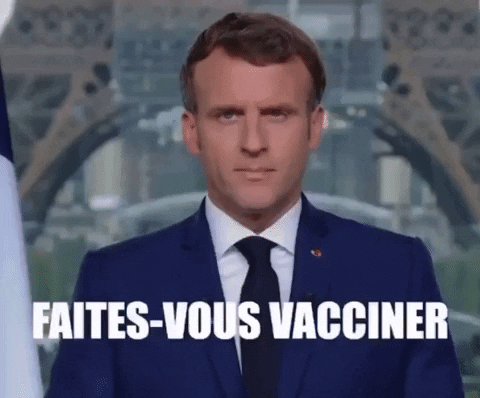 President Macron took to Twitter, Instagram and TikTok urging France (particularly the younger generation) to think about the fraternité (fraternity) element of the French motto, arguing that freedom is useless if used unwisely. "It's about citizenship. Freedom only exists if the freedom of everyone is protected… it's worth nothing if by exercising our freedom we contaminate our brother, neighbour, friend, parents, or someone we have come across at an event, then freedom becomes irresponsibility."
Owliver's Obscure Observations
Protests were held last month in Italy against a pass to access indoor dining, gyms, theatres, cinemas and other public places. They have issued what is called a 'Green Pass'.
Is it working?
Yes, despite the widespread protests, The Guardian reports that at least 7 million French people have been given their first vaccine dose since the government decided to implement the policy. Reservation data on bookings suggest that France will have vaccinated 50 million people over the age of 12 with at least one jab by the end of August.
Do you think individual rights are more important than the safety of society as a whole? Should individuals be allowed to not take the vaccine even if it puts thousands of others at risk of catching Covid? We would love to hear what you think. Reply in the comments!
Sources: Al Jazeera, France 24, Indian Express, Forbes
Photo: AP Photo/Rafael Yaghobzadeh