Meet Stan, the dinosaur king

3

min read
Reading Time:
2
minutes
Back in 1987, Stan Scarison, an amateur fossil scientist, thought he had discovered something rather fascinating. He thought he had found the bone fragments of a Triceratops— a relatively commonly found fossil of a carnivorous dinosaur.
However, what he did not know was that he had discovered something far more earth-shattering! He had set in motion the excavation of the skeleton of one of the rarest, largest, and most terrifying dinosaurs known to humans, the Tyrannosaurus rex. After a total of 300,000 hours of digging out and assembling, Stan the T-rex was born. Well, sort of.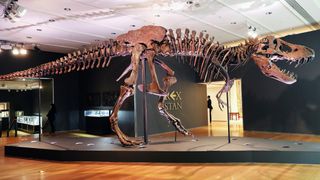 Stan is so unimaginably large that his eyes are the size of baseballs and he weighs 3 and a half times as much as a rhinoceros! At 13 feet high and 40 feet long, Stan stood in the Black Hill Institute of Geological Research in the United States of America for several years.
Since his discovery, Stan has been an object of great curiosity. Scientists across the globe have come to see and study him. A few years back, he was even the subject of a TV show!
Fun Fact: The name Tyrannosaurus rex means "king of the tyrant lizards": "tyranno" means tyrant in Greek; "saurus" means lizard in Greek, and "rex" means "king" in Latin.
Since Stan has the most intact T-rex skeleton known to humans, he has been replicated several times over and placed in museums across the globe. However, it's important to remember that Stan is much more than just magnificent to look at.
His 67 million-year-old bones conceal numerous secrets that unlock the key to our understanding of his pre-historic world. By studying various markers on Stan's bones, scientists now know how Stan moved, what he ate, and even how he could crush a car with just one bite! Can you believe that all this information is merely the tip of the iceberg? There is so much more that is both known and unknown about Stan.
Images: Christie's, GIPHY, BHI
With excerpts from Livescience, AP, BBC, CBC, BHI and Christie's Auction House.