Owliver Recommends: 'Dumplin' and 'The Willoughbys'

3

min read
Reading Time:
3
minutes
BOOK REVIEW
A witty journey towards growth and self-worth
Owliver's Metre: 4.5/5
Even though the headline makes Dumplin' sound like an intense, heavy story of a youngster experiencing growing pains, it's not. Instead, it's a refreshingly light and breezy read that focuses on important issues without preaching them.
Meet Willowdeen Dickinson, a 16-year old from Clover City, Texas. She is a Dolly Parton fan and lives with her mother, an ex-beauty pageant winner. Willdowdeen is overweight but comfortable in her body and confident of who she is. There is one problem, though. The boy she has a crush on kisses her; and then a crushing insecurity over her body and life envelops her.
She loses him, and her best friend, and her already-strained relationship with her mother worsens. Willow also recently lost her favourite aunt and feels like there is no one else around who understands her. In the midst of this, she decides to run for the local beauty paegent. Her mother is one of the judges.
What happens when she signs up for the pageant and how she deals with her issues from the rest of the story. It's heartfelt, warm and funny, while being sensitive and thoughtful to the protagonist.
Overall, Dumplin' is a coming-of-age story told like it should be.
Dumplin' is available at bookstores and on Amazon.
MOVIE REVIEW
The Willoughby's have one goal: They want to be orphans
Owliver's Metre: 4/5
Directed by: Kris Pearn, Cory Evans, Rob Lodermeier
Running Time:1h 30m
Tim, Jane, Barnaby, and Barnaby's story has so far been weird, odd, and pretty dark, but when a baby arrives at their eerie doorstep, they get a crazy idea! Why not pretend to be orphans? How? They send their loving parents (parents who can no one but each other) on a long, dark journey to the ends of the Earth, ensuring that they can never come back. Or, so they think.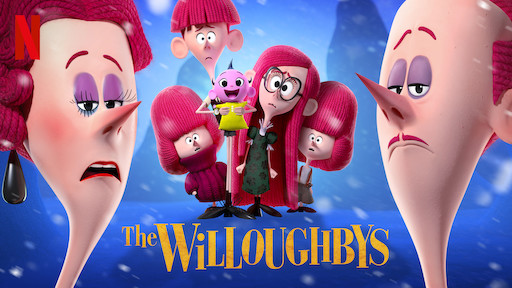 Against all odds, the children still have determination, imagination, and hope. They are, after all, Willoughbys! Historically they are generous, grand, friendly, and most important, blessed with an ability to grow flourishing red beards (even the women). Unfortunately, these gifts skipped a generation, and that sullied generation produced the delightfully strange Willoughby kids. Narrated by a ghostly cat (think the Cheshire Cat from Alice in Wonderland), their story is told with the dry wit of the great comedian, Ricky Gervais.
Owliver's Obscure Observation: Maya Rudolph, Terry Crews, Martin Short, and Ricky Gervais are just some of the award-winning comedians that voice these peculiar characters.
Despite its dark themes, this animated movie is giddy with humor This animated adventure is based on Lois Lowry's satirical book that looks at classic children's stories and, well, twists them a little. Enchanting visuals, overgrown mansions, creepy twins, a dry-witted cat, a hell-raising baby, and a candy factory make this story into a loveable oddball that you won't regret watching. So go on to watch the movie and find out whether or not these kids finally get to live their life-long dream of being orphans.
You can watch this film on Netflix.
Can you name the classic movies that have been twisted in this tale? Let us know in the comments below.