Remembering Nelson Mandela – a fearless fighter for equal rights

6

min read
Reading Time:
4
minutes
Come July, and we take a day to remember the life, triumphs and struggles of a man who fought for what he believed in. This man in Nelson Mandela, who worked hard to change the lives of millions of South African people.
In this week's Rewind with Owliver, let's take a journey back in time to explore who Mandela was and his role in history.
Who was Nelson Mandela?
Nelson Mandela was born Rolihlahla Mandela on July 18, 1918, in a rural village in the Transkei region of South Africa. A teacher at a Christian school later gave him the name 'Nelson'.
As a young man, Mandela attended university to study law, but was dismissed because he took part in a student protest, his first act of civil rights activism.
In the 1940s, Mandela entered into the turbulent world of South African politics by joining in the movement known as the African National Congress (ANC).
Owliver's Obscure Observations
Civil rights are an essential part of democracy. They are guarantees of equal social opportunities and protection under the law, regardless of race, religion, or other characteristics.
What was Mandela fighting against?
Since the arrival of the Dutch and British colonists in the 1600 and 1700s, black South Africans – and all people of colour in South Africa – had steadily lost power over their own land. Racist policies of the European-dominated governments took away their basic human rights. By 1950, Afrikaners (South African whites of Dutch descent) had control of the government and enacted the modern form of apartheid. Under this system, black South Africans could not have a voice in the government, socialise with whites, or travel outside their living area without government approval.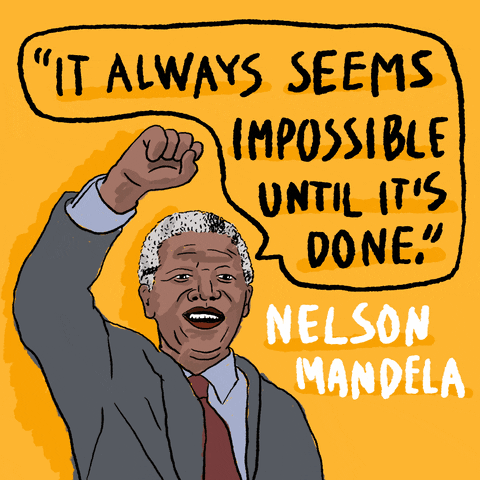 Mandela's activism
Mandela was a founding member of the African National Congress's Youth League and later become second-in-command. Through this group, Mandela was able to take political action against apartheid. In the 1950s, he was the leader of the African National Congress. The South African government considered him an enemy.
In 1963, the government put Mandela on trial for treason, and gave him a lifetime sentence in jail. Throughout his imprisonment, Mandela continued his work to end apartheid by sending secret messages from his cell on Robben Island.
The moment Mandela was released from jail was a huge one. It was televised across the world. Watch the video below.
First democratic leader
On February 2, 1990, 27 years after Mandela was imprisoned, South Africa's president Frederik Willem de Klerk removed the ban on the ANC and released Mandela. Three years later, Mandela and de Klerk were jointly awarded the Nobel Peace Prize.
In 1994, Mandela became South Africa's first democratically-elected president. He focused his presidency on building peace and unity in his country. In 1999, at the end of his term as president, Mandela chose not to seek re-election. He remained politically active, however, working to promote peace throughout Africa and to draw attention to social injustice and the spread of HIV and AIDS.

Owliver's Obscure Observations
In 2009, Mandela's 1995 autobiography, Long Walk to Freedom, was published for children. In that same year, the United Nations declared his birthday as Nelson Mandela International Day.
When did Nelson Mandela die?
From 2004, he lived a quiet life with his wife Graca. Following a lung infection, Nelson Mandela died in December 2013. He was 95 at the time of his death.
The Nelson Mandela Memorial, created by South African artist Marco Cianfanelli, consists of 50 thirty-foot-high, steel plates that were laser-cut and planted in the ground. It was designed and constructed in honour of the 50th anniversary of the capture and arrest of Nelson Mandela on August 6, 1962. What otherwise looks like just rods, turns into an image of Mandela when seen from a particular angle! It is a representation of Mandela's time in jail.
Owliver recommends Invictus
(We recommend this movie for those above the age of 12)
Invictus is a 2009 biographical sports drama film directed by Clint Eastwood and starring Morgan Freeman and Matt Damon. It is based on a true story. The movie chronicles the events before and during the 1995 Rugby World Cup as Nelson Mandela campaigned for South Africa to host the global event. This was done as an attempt to reunite the country that was torn apart by racial discrimination.
Watch the trailer to the movie below.
Sources: National Geographic, History.com, Britannica, BBC