Saudi activist who fought for womens' right to drive released

3

min read
Reading Time:
2
minutes
Earlier this month, authorities in Saudi Arabia released from prison a very prominent person who fights for the rights of women. Activist Loujain al-Hathloul was in prison for nearly three years, after being arrested in May 2018 with a dozen others like her. 
She was campaigning to lift a decades-long ban on female drivers, which had caught the attention of people all across the world. 
Background check:
Saudi Arabia, which is a monarchy, banned women from driving many, many years back. This gave way to the Women to Drive Movement – a campaign by Saudi women to be able to drive on public roads without escorts or drivers. It was only in 2018, after several years of protests, and arrests, were women officially allowed to get behind the wheel.  Saudi was the only country in the world where women could not drive.
What was she arrested for?
A Saudi court had given Loujain a prison term of five years and eight months for terrorism-related crimes. The women's rights activist was convicted of inciting regime change and seeking to disrupt public order. 
Why was she released now?
Experts and family members of Loujiain say the decision to release her before completion of the term was "face-saving exit strategy" for the Saudi government. This, they attribute to the severe international pressure to free her. 
US President Joe Biden, who pledged to intensify scrutiny of Crown Prince Mohammed bin Salman's human rights record, welcomed the decision. Even French President Emmanuel Macron, who strongly called for her release last year, welcomed the news. 
However, the fight is far from over. Though Loujain has been released, there is a travel ban imposed on her, wherein she can't leave the kingdom for another five years! The charges against her, which have been called unjust and vague by many across the world, have not been cleared either. Also, several other activists like Loujain continue to remain behind bars.
Owliver's Obscure Facts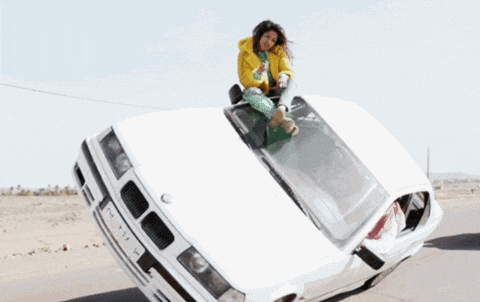 M.I.A, the British singer and activist with Sri Lankan roots, released a song called Bad Girls in 2012, in solidarity with the women fighting for the right to drive. 
Sources: NDTV, Wikipedia, Aljazeera
Photos: Reuters