This 11-year-old cook plans to be the world's first intergalactic chef

7

min read
Reading Time:
5
minutes
This week, Owliver spoke to Nihal Raj, a young yet renowned chef from Kochi in Kerala. He is only eleven years old and is, in fact, India's youngest renowned chef! He started cooking at the age of four and would upload his process and recipes on YouTube. Nihal's channel, KichaTube, has amassed thousands of subscribers, and his hearty cooking and upbeat commentary are not to be missed.
Soon after he started his channel, Facebook recognised his brilliance. Now, Nihal is an international chef who has been on the Ellen show and is known as Little Chef Kicha by his many admirers. But the young chef is only just beginning to make his mark on the world. One day, he plans to cook meals for humans living on other planets, and until that day comes, he continues to push himself and cook with an admirable passion.
Read on to see what Nihal had to say about his undying love for cooking.
How it all began
I was driven towards cooking because of the creativity involved. I haven't been too artistic my entire life. Whenever I attempted to draw, it looked like a huge ball and nothing more.
I see cooking as a platform or stage where you can anything you want.
There are billions and millions of possibilities. It's like a Rubik's cube.
Why cooking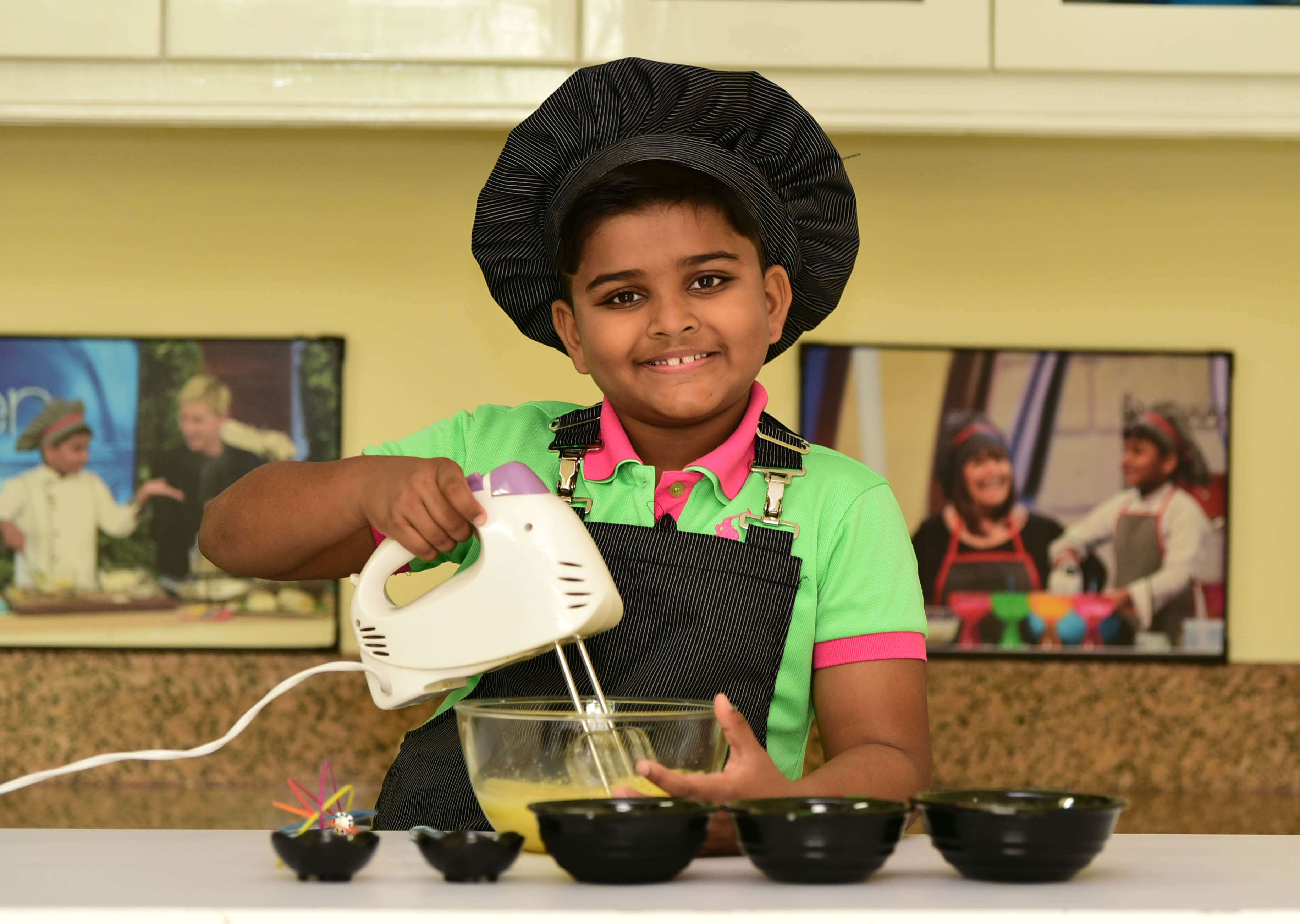 I started out just by cooking for fun. I realised I really liked cooking when I started my YouTube channel at around the age of four. Then, about two years ago, I was making gnocchi, and when I finished, I felt this immense sense of satisfaction. At that moment, I told myself, "yes! I love cooking."
How Little Chef Kicha came to be
I think I got recognition thanks to the young age at which I started cooking. Most of my fans on YouTube love my channel because I would eat the dish I cooked at the end of all my tutorials. I think people like to see my love for eating.
But basically, I am like any other chef. I have a lot to learn.
Nihal's Speciality
My speciality is Puttu, a steamed rice cake that originates from my hometown, Kochi. It's the dish that I cooked for Ellen on the Ellen show as well. I would definitely say that I've cooked Puttu so many times that I love it and it is my speciality.
What Nihal loves to cook the most
"I really love cooking"

Nihal Raj
I like cooking savoury foods and desserts. My favourite mode of cooking is frying. I like making desserts, but I don't really enjoy baking because it isn't that interactive. You just put your food in the oven and watch it work. When you fry, you have to have complete concentration. You have to carefully observe your food and take it out at the perfect time when it's the perfect colour.
Nihal's favourite part of the cooking process
I love tasting my food. I love the end of the cooking process. Because you've worked hard to make something yummy, and then you taste it, and you get that distinctive feeling of satisfaction.
Nihal's biggest acheivement
I have a few achievements I am quite proud of. One of them would be being invited to the Ellen Show. I am the youngest Indian that has ever been on the show.
Watch this video to watch Nihal cook on The Ellen Show.
The award that I am most proud of is the 'Global Child Prodigy' award that I won in 2020. I was one of a hundred people who received this award.
Nihal's biggest inspiration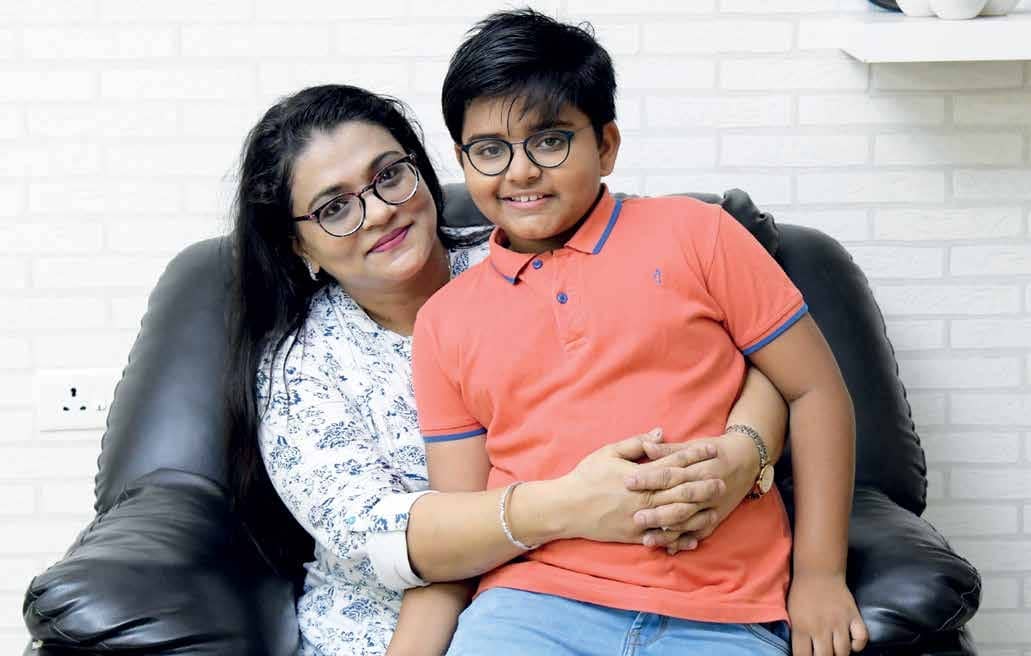 Many people inspire me now. But, my first inspiration was my mom, and she continues to be my biggest inspiration. She is a very good cook.
What keeps him going
I stay inspired because of all the things that I am yet to try. Cooking has endless possibilities. All the support that I get keeps me going as well.
Even when 'haters' try to bring me down, I look around and see so many people supporting and encouraging me.
Especially my parents and relatives. They are my biggest fans.
I also love it when people write to me to tell me how much they loved my recipes. Some people even write about how they tried my recipes and give me an update on how it went.
How does he unwind.
When I need to tone down and relax, I use my Rubik's cube, play cards, or watch a movie or something like that. Sometimes I cook to unwind as well.
Where he sees himself in ten years
I am not sure yet. I have so many choices ahead of me. One of my dreams is to become an astronaut chef. I might also want to become a chemist or just a chef, but I am not really sure so far.
An Astronaut Chef
An astronaut chef is someone who goes to space and cooks. In a few years, I think this planet will be too polluted and overpopulated. So, humans will try to colonise other areas in Space like Mars, the Moon and Titan.
Right now, Astronauts can only eat dehydrated or pre-packed food. No one has been able to cultivate food in or cook in space as we do on Earth. I want to be the first person to do that. That is basically what my vision is.
What Nihal thinks it takes to be a good chef
It takes a lot, but there are a few most important things. You need to have a lot of patience. Also, you need to have laser focus, and your reaction time needs to be fast.
Lastly, you need great hand-eye coordination because you'll always be working with sharp knives and extreme heat.
I have been training my hand-eye coordination for a long time. I do that by playing video games, solving the Rubik's cube, and solving puzzles. These are simple ways in which anyone can train their hand-eye coordination.
Nihal's message for Owliver's Posts' Readers
I would like to tell everyone, regardless of whether they want to cook, "follow your dreams and your passion". Even if people tell you that you aren't good enough, just stay determined and go for it.
Follow your dreams and follow your passion no matter what.
A simple recipe that Nihal thinks anyone can try
You can make mango ice cream. All you need is This recipe really helps train your patience. It's fairly simple, just watch this video and follow along.
Before you go, don't forget to subscribe to Nihal's channel and embrace the joy of cooking.
(Trailblazers is a bi-monthly column where we feature inspiring youngsters who are doing great things, in their own way)
---
Would you like to nominate someone you know to be featured in this column? Write to us at hello@owliverspost.com with their name, and what makes them a Trailblazer.