What you missed: The Eiffel Tower has a growth spurt, two teens help Ukraine refugees, and more!

7

min read
Reading Time:
5
minutes
Missed Out is a lowdown on all the wacky, wonderful and sometimes, plain weird, happenings in the world around us. Little videos, facts and tidbits that make for an ideal, fun and educational break.
Hello again! It's time for our weekly low-down on headlines you may have missed. This week on Missed Out, we understand how the iconic Eiffel Tower grew taller, how people across the world — regardless of their age — are helping those in war-torn Ukraine, and more! Scroll down to learn more…
The Eiffel Tower just grew by about 20 feet!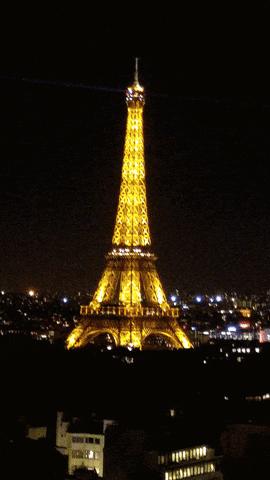 The Eiffel Tower grew by 19.69 ft on Tuesday. How, you ask? Too late for a growth spurt, right? Well, the iconic landmark in Paris grew taller after a new digital radio antenna was attached on top of it.
The tower, built by Gustave Eiffel in the late 19th century, now measures 330 metres (that's over a 1,000 ft!) after the DAB+ (digital audio) antenna was airlifted onto its peak by helicopter.
During its construction, the Eiffel Tower surpassed the Washington Monument to become the tallest man-made structure in the world, a title it held for four decades until the Chrysler Building in New York City moved to the first spot in 1929.
The wrought-iron lattice tower is among the most visited tourist sites in the world, according to TripAdvisor. It has, however, also been used for broadcast transmissions for more than 100 years, with the height of its pinnacle changing numerous times as ageing antennas were replaced.
Live television images showed the helicopter lowering the antenna onto its base atop the tower, where workmen made it secure in an operation that lasted less than 10 minutes.
Owliver's Obscure Observations
When Gustave Eiffel designed his namesake tower, he cleverly included a private apartment for himself where he hosted famous guests, like Thomas Edison. The apartment is now open for the public to tour.
---
These teens are helping Ukraine refugees!
Two Harvard University students have created a website connecting thousands of Ukrainian refugees with hosts around the world who can offer them a safe haven.
Avi Schiffmann came up with the idea when he attended a pro-Ukraine protest while visiting San Diego, where he came face to face with hundreds of Ukrainian Americans sharing distressing stories and pleading for help.
"I remember thinking, 'I know how to design websites with big platforms,' so how could I not do anything to help?" Schiffmann, 19, told CNN.
More than three million people have fled Ukraine since the war with Russia began, according to the International Organisation for Migration. Thousands more head to the border every day. Meanwhile, millions of Ukrainians remain in a country where active conflict has cut off access to basic supplies and medicine.
Schiffmann reached out to his friend Marco Burstein to talk about his idea. Burstein, an 18-year-old computer science major, signed up for the effort. Together, they launched Ukraine Take Shelter on March 3, and within a week, more than 4,000 people offered to take in refugees.
---
This country has proved it's the happiest for the fifth time!
Finland has been named the world's happiest country for a fifth year running, in an annual UN-sponsored index. The report ranked Denmark in the second place, with Switzerland, Iceland and the Netherlands rounding up the top five happiest places in the world.
The authors of the report said that Finland ranked very high was on "the measures of mutual trust that helped protect lives and livelihood during the pandemic".
According to John Hopkins University, the Nordic nation of 5.5 million people fared better than the majority of European nations during the Covid-19 pandemic. Finland reported just over 70,000 cases and 805 deaths due to coronavirus.
Meanwhile, India continued to fare poorly in the world happiness index, with its position marginally improving to 136 as against last year's 139.
Owliver's Obscure Observations
Published since 2012 by United Nations Sustainable Development Solutions Network, the World Happiness Report is based on people's own assessment of their happiness, as well as economic and social data. For the World Happiness Report 2022, people across 149 countries were asked to rate their happiness.
---
A mysterious sarcophagus emerges in Paris
Archaeologists at Notre Dame Cathedral in Paris have discovered a 14th-century sarcophagus along with other burials, according to France's culture ministry.
A sarcophagus is a stone coffin, typically adorned with a sculpture
or inscription and associated with the ancient civilisations of Egypt,
Rome, and Greece.
So who lies in this sarcophagus? It's not clear who was buried in it, but it was likely someone important.
On 15 April 2019, a massive fire broke out beneath the roof of the Notre-Dame cathedral in Paris. By the time the fire was extinguished the building's spire had collapsed, most of its roof had been destroyed and its upper walls were severely damaged. Since then, efforts are being made to restore the monument to its original beauty.
The characteristics and location of the sarcophagus suggest that it holds the remains of "a high dignitary," according to a translated statement from the culture ministry released March 14. Its placement inside the cathedral is what suggests that the person had elite status, while its underground layer indicates that it dates to the 14th century at the latest.
Owliver's Obscure Observations
Do you know which was the most famous sarcophagus to be discovered till date? British archaeologist Howard Carter and his workmen discovered the tomb of the Pharaoh Tutankhamen near Luxor, Egypt, in 1922. They uncovered the greatest treasure of the tomb — a stone sarcophagus containing a solid gold coffin that held the mummy of Tutankhamen.
---
That's it for this week! Catch more 'Missed Out', and tell us what kind of content you'd like to see more of! Write to us at hello@owliverpost.com, or comment on this article.