Your favourite unhealthy snacks will now remind you to mask-up

8

min read
Reading Time:
5
minutes
Take a good look at all the images above. What do you see? Your first observation was probably the fact that you are looking at a bunch of packaged food. Maybe a lot of the stuff you see just made you gag because of how unhealthy it is. Or perhaps your mouth instantly started watering the moment you looked at this colourful display of edibles. Either way, there is something else that ties all these products together. Can you tell me what that is?
Nestlé
Yup, all these brands and products are owned by the company, Nestlé. And Nestle has decided that it has a message to share. As a part of the company's "Face of Hope" campaign, Nestlé is making all of its brand logos wear a mask. That means all Nestlé owned products will have a face-covering depicted on their packaging. So, every time you head to the market to buy a packet of Maggi or even some milk, you'll be reminded to stay "masked up", much like Nestle's brand logos.
Nestle believes that wearing a mask is a crucial step that everyone must take to stay healthy and stop the spread of Covid-19. Moreover, they hope that this campaign will remind everyone of the gravity of the ongoing Covid situation and the crucial role of mask-wearing in fighting off this nasty pandemic.
---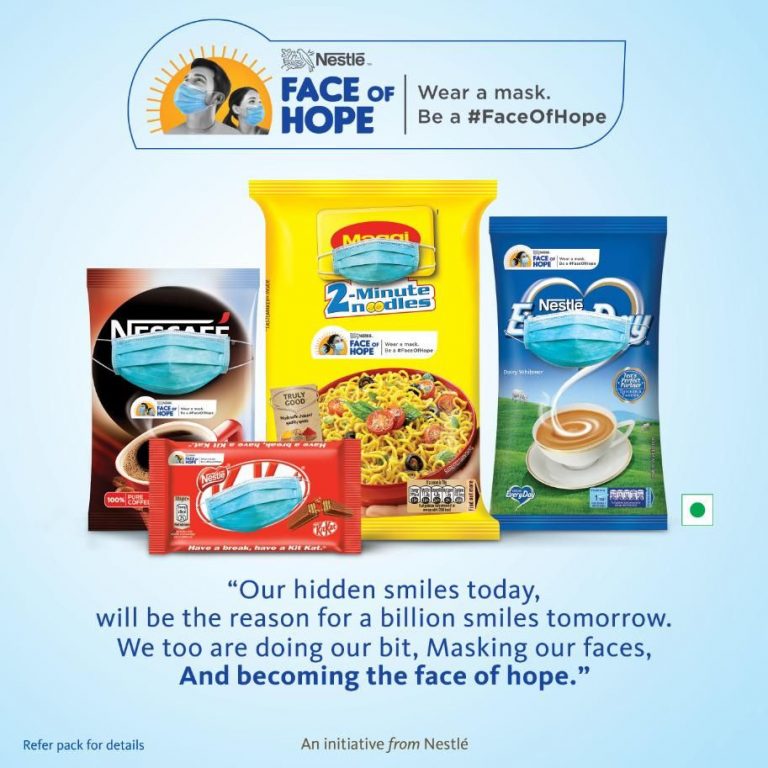 "Nestle India understands the 'need of the hour' and wants to sensitise each and every individual about the one basic practice that we must all follow – masking-up. To remind all of us and to create awareness on this very important safeguard, we have commenced work towards tweaking our product packaging that will see our iconic brands "masked-up". Our aim is to ensure that this important message gets reinforced every time when consumers look at our products."

— Nestle India Spokesperson
---
.
Do you think this campaign will influence more people to "mask-up"?
.

Nestlé and Covid-19
This "mask-up" campaign is not all that the company is doing to fight off the pandemic. Globally, the company is paying millions of dollars to help with vaccine efforts. Moreover, Nestlé is also making sure that its employees are safe and protected.
Healthy messaging
However, there is an unhealthy elephant in the room, and we must address it. We all know that beyond wearing a mask and getting the vaccine, one of the best ways to protect ourselves from the cruelty of Covid-19 is to stay healthy. So, if Nestlé is committed to our well-being, shouldn't the company try to sell us food that will keep us healthy?
As obvious as the answer may seem, as we recently found out, Nestlé's products are far from healthy. It was found that 60% of Nestle's products didn't match Australia's minimum standards for healthy food. And, a significant number of Nestle's products are downright unhealthy.
Maggi noodles, Nestlés popular Indian product, has so much salt that just one packet of Maggi makes up for 75% of the salt that a person should consume in a day. On the other hand, Kitkat, Nestle's crunchy chocolate, has five times the sugar than what has been recommended by India's food regulatory body, the food safety and standards authority of India (FSSAI).
The food safety and standards authority of India sets up and enforces food regulations. These rules set up a standard that the food sold or provided to the Indian public must meet. They also make recommendations regarding healthy and safe amounts of various items in our diet.
Well, Nestlé has admitted that making some of its products healthier is almost impossible. As it turns out, making Nestle's snacks healthier would cost more, be difficult to produce, and could even be harder to store. But, the Indian Centre for Science and Environment has proposed another solution.
FoP Labelling
They think that Nestle should practice an FSSAI recommendation known as front-of-packet (FoP) labelling. FoP labelling requires companies to put all nutritional information in the front of the packet in layman's terms.
You've probably seen nutritional information that looks similar to what you see in the image below. But to most of us, these complex numbers are nothing more than gibberish. Thanks to these befuddling labels, we tend to overlook alarming facts as we can barely understand them.
This is Kitkat's nutritional information. Do you feel that this label hints at this fact: "Kitkat, Nestle's crunchy chocolate, has five times the sugar than what has been recommended by India's food regulatory body FSSAI." In fact, do you feel that it needs to?
Companies put up this information on their products as they are required to by Indian law. But, when they put it up in such cryptic ways, it's almost as good as not putting it up at all.
This is precisely why organisations like the CSE and FSSAI have recommended FoPs. Every time you go to buy a Nestlé product, you won't just be reminded to wear a mask, but you'll also be reminded that you probably shouldn't consume the product at all.
.
Do you believe that FoP labelling is fair, or do you think it will cause too much damage to companies?
What can you discern from the FoP label above? Would you eat the food that this label is describing?
.

With Excerpts From: Business Line, Live Mint, CNBC TV18, Nestle, Down To Earth, The Wire Science and Business Today.